by Mokibobolink on Oct.06, 2009, under Drama, Mystery, Television
Nathan Fillion and Stana Katic in Castle, season 2, episode 3 "Inventing The Girl". image from www.tvovermind.com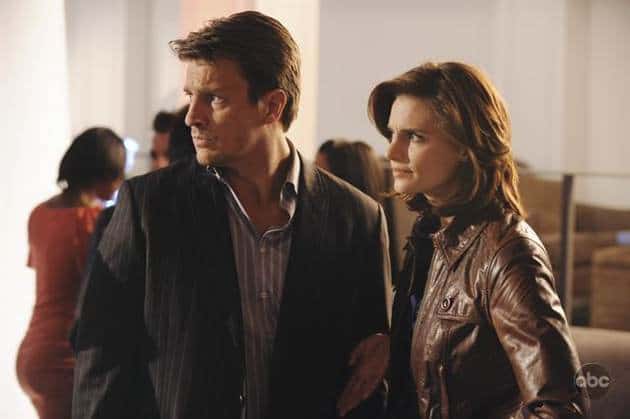 Castle was another one of those shows that suffered from my lack of a DVR last year. I only caught a few episodes here and there and was determined to change that this season. So I started recording it and have now finally gotten a chance to watch the first three episodes of this season.
What I like about this show is its wit, the characters and surprisingly enough (to me, anyway) the mystery. I've never been much into mysteries. Honestly, if it wasn't for the fact that one of my favorite actors (Nathan Fillion) was in this show, I wouldn't have started watching. Now that I have, I'm happy I gave it a shot. This show is hilariously funny and the characters are a blast to watch.
Nathan as Castle is sexy but also just a big goof, not afraid to make fun of himself or others. Beckett is the detective forced to have Castle tag along on her cases and is a good match for him. She's tough and ballsy but has a good heart. As their sometimes rivals, I really love the other two detectives they often work with to solve crimes. In a show that is already chock full of humor, these guys manage to add even more. Last week's episode, where all were involved in a bet to see who would solve a case first, especially let them shine.
Once again I thank the DVR gods for bringing to me a great show that I might have otherwise missed..
:ABC, Castle, Jon Huertas, Nathan Fillion, Seamus Dever, Stana Katic, Tamala Jones