Concerts
by Mokibobolink on Apr.03, 2010, under Concerts, Music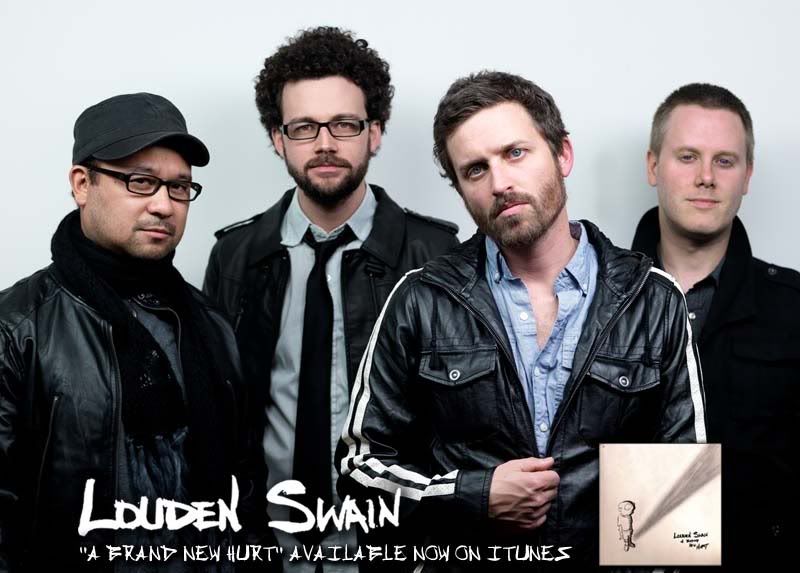 Last Friday night I was lucky enough to attend Creation's Salute to Supernatural Convention in LA. I was also lucky enough to attend the concert given by 'Louden Swain' and thought they were amazing. I have to admit that I had to Google the band name to find out what it meant, having never seen the movie "Vision Quest".
This is my first time reviewing a live band performance and I'm finding it hard to describe why I enjoyed it so much. First off I'd have to say it's just because of the band themselves. Lead singer Rob Benedict had already spoken earlier on stage about his work on the show. Maybe it was because I enjoyed his panel so much that I also enjoyed the show.
But I like to think that I'm not simply being biased by being a fan of Rob and his character "Chuck". After all, the man singing on stage bore very little resemblance to his onscreen alter ego. Somehow I doubt we'd ever see Chuck rocking out wearing a short sleeved white shirt and thin black tie. Though when many of the girls in the audience screamed for him to "take it off!", I did see just a bit of "Chuck" in Rob's embarrassed response.
The music was a fun mix of rock, alternative and other stuff I'm probably not musically educated enough to recognize. All I know is that it was extremely fun to listen to live, which is not always the case with me and bands I don't know. Part of the fun of listening to live music (for me, anyway) is singing along to the songs I know. Sometimes I have found myself a tad bored when watching a band I've never seen before.
Not so with these guys. From the first note to the final one, I was bopping along in my seat (and a little disappointed that I had to stay there, wanting to dance along instead). I was extremely sorry when their set was over and immediately joined the long line forming to buy their CD – 'A Brand New Hurt'.
Overall a really fun concert and I hope that these guys do well so that I can hear their music on my radio someday. Until then I'll have to be content with the memories as I listen to them on my iTunes.
Leave a Comment
:Louden Swain, Rob Benedict
more...