Tag: Entertainment Weekly
by Mokibobolink on Oct.19, 2009, under Crime, Drama, Magazine articles, Television
Mark Harmon and Pauley Perrette in NCIS. Image from www.tvfanatic.com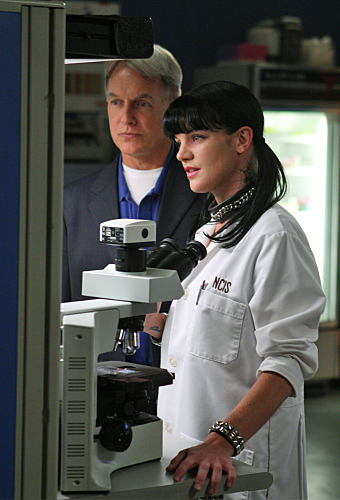 In the October 23rd edition of Entertainment Weekly I was very pleasantly surprised to find an article on one of my favorite shows. I have been in love with NCIS after I (like many fans these days) stumbled across a re-run on USA last year. I watched one half of one episode ("SWAK" for any who are curious) and that was it, I was hooked.
I was surprised by the article because it seems like mainstream media has been ignoring my favorite show. But it looks like that's all changing now as NCIS just keeps getting bigger.
The article is aptly titled "The World of NCIS – Why It Keeps Getting Bigger" and has some great insights into a show I thought I already knew a lot about. It discusses the new spin off NCIS: Los Angeles and what some of the cast's reactions were when they found out about it. Apparently not all were for it, understandably worried that their show would suffer.
By all accounts this has proven to be anything but true as NCIS is now seeing it's highest ratings ever, despite being in its 7th season on the air.
The article also mentions that a lot of people "assume it's as partiotically stiff as its military-law predecessor, JAG." This made me laugh as that described me perfectly. I had no idea how much fun this show was and I've been very happy to see the same mix of drama and humor on NCIS: LA.
The article is four pages long, two of which are large photos of LL Cool J and Chris O'Donnell of NICS: LA and four smaller photos from both the LA spin-off and the original.
It also includes a small sidebar on "TV's Best Procedurals" – which I found amusing as well.
Overall a good article that I highly recommend to anyone who is a fan of NCIS or NCIS: Los Angeles. So pick up your copy before they disappear off the stands.
More NCIS…
NCIS, Season 7, episode 1 "Truth or Consequences"
NCIS, Season 7, episode 2 "Reunion"
NCIS, Season 7, episode 3 "The Inside Man"
NCIS, Season 7, episode 4 "Good Cop, Bad Cop"
NCIS:LA – Season 1, episode 1 "Identity"
NCIS: LA – Season 1, episode 2 "The Only Easy Day"
NCIS: LA – Season 1, episode 3 "Predator"
Leave a Comment
:CBS, Entertainment Weekly, NCIS, NCIS: Los Angeles
more...